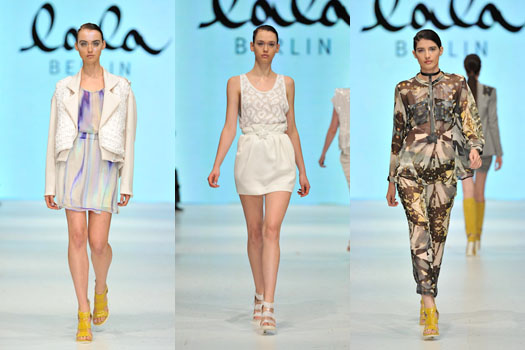 TORONTO, OCTOBER 18th, 2011- For the first time, Leyla Piedayesh, designer of Lala Berlin showcased her Spring 2012 collection during Toronto's LG Fashion Week Beauty by L'Oréal Paris. With almost an hour late, special thanks to a bad security system and crowd managing from this organisators, this (talented) Berlin-based designer had to present her collection in a nearly empty venue.
Characterized by smooth, feminine lines and defined sharpness, the oppening looks weeverything but boring. In a delicate palette of pastel colors, from lilac to minth, the garments exuded freshness, opposing themes of classic femininity with a rock 'n' roll edge.
Also featuring a footwear collection inspired by Pierre Cardin aesthetic, classic suede, transparent tinted acetates and fluorescent patent leather, the collection reinterpreted the cool vibe of the 60's, just enough provocative yet abstractly cool.
We like how the designer opposed volumes and lenghts, contrasting textures and smooth fabrics, while staying perfectly true to her vision of garments. She had fun with her creations, and as a result, she definetly succeeded to present an eclectic, one-of-a-kind, yet very wearable collection for every woman who wants to feel unique. Finally, the vivid prints echoed new-age romance and a precise attention to details.
The show had definetly worth the wait.
[MARIE-CHARLES]
Photo by George Pimentel, courtesy of LG Fashion Week