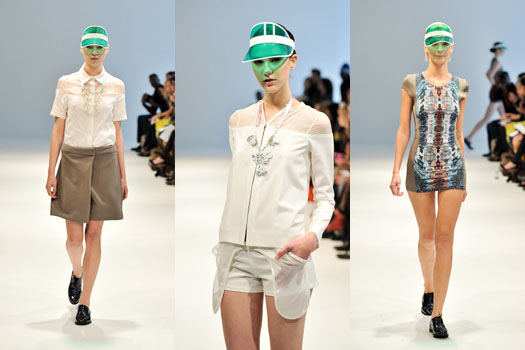 TORONTO, OCTOBER 18th, 2011- Quite new on the fashion scene, this young designer started AMANDALEWKEE first as a jewelry line which later developed into a nappa leather garments and more recently a women's ready-to-wear line.
Today, she presented a cooler aesthetic, more casual, than her usual look. Still very polished, the looks were inspired by the preppy style of tennis sportswear. With pleated short skirt, light shirt and lightwear silk dresses, Lew Kee put the emphasis on fabrics and comfort. She also use a kaleidoscope-style pattern in shade of blu and green, contrasting with white and taupe she used in her general palette of colors, while her delicate silver necklaces succeeded to give the looks a feminine vibe.
Unfortunately, the whole collection was good, but may be not as flamboyant as expected; the garments missed fluidity due to bad tailoring, so it did not help to convince the audience.
[MARIE-CHARLES]
Photos by George Pimentel, courtesy of LG Fashion Week