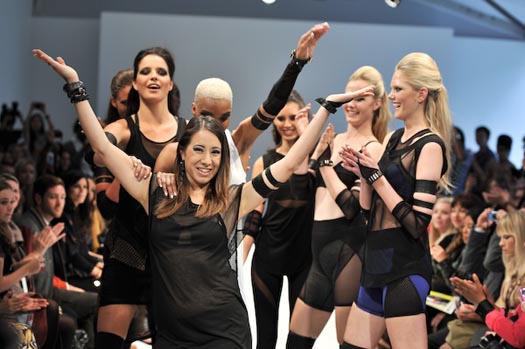 TORONTO, OCTOBER 18th, 2011- MICHI is the definition of what the LG Fashion Week likes to call CanadaCool. Edgy, fashion-forward, provocative, glamourous, name it, you would have found it in the MICHI's runway show.
As an utilitarian active lifestyle brand, with impeccable fit, MICHI originated from the desire to fill the gap between provocative, glamorous lingerie and comfortable, utilitarian athletic wear. Founded in New York in 2010, Michelle Watson moved her company in Toronto. It seems like the ciy this je-ne-sais-quoi that is brimming great peoples and projects.
Although the spring summer collection doesn't seem so different from her actual collection, exception made of some great color accents such as cobalt, fushion, and green-yellow, the collection will, again, please the clientèle with her simple and flattering lines, flattering every woman curves. We particularly love some intricate details such as peek-a-boo bra straps and cut-outs stylized short.
The designer presented a sleek collection where Jane Fonda 80's style meets Catwoman. Woman wearing MICHI feel empowered. Thus, six fabulous creatures opened the show and walked the runway, in a sexy, provocative and sometimes over acting way. Therefore, the show was great, the audience totally understand that MICHI makes the woman "feels sexy yet sophisticated, powerful yet feminine, comfortable yet polished." Did I say CanadaCool?.
Definetely, MICHI sets standard for sportswear.
[MARIE-CHARLES]
Photos by George Pimentel, courtesy of LG Fashion Week