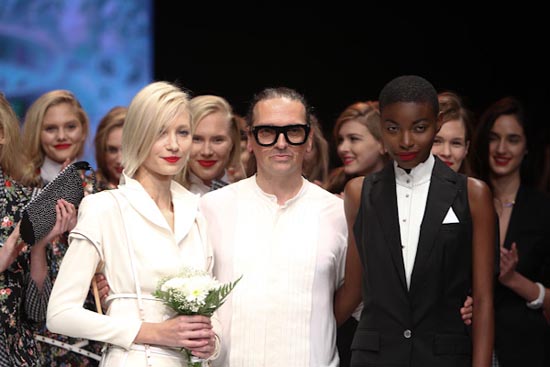 TORONTO, OCTOBER 24, 2011- Last but not least, Denis Gagnon closed the fashion marathon of LG Fashion Week this past Friday. Not only did he presented us an enjoyable show, but also an incredible and beautifull collection. Litterally called Denise au jardin, the collection featured beautifull models dressed for tea time. Fresh as roses, the models were litterally flowing on the runway, enjoying comfortable and unique fashion.
Gagnon presented a all feminine sportswear-inspired collection. With floral prints as his main canvas, Gagnon modernised the classic tuxedo, by transforming it into jumpsuit, coats or shirts. He also opposed naughty and good girl feel, by mixing sheer and soft with opaque and structured fabrics. We also saw his genius and talents for transforming leather, as he created amazing pieces of accessoires like bags or conic bras. We could feel the freshness and beauty exuding from each silhouettes.
What was really different from his past collections, was how wearable the garments were, still keeping with Gagnon unique creative touch. The designer succeeded to accomplish what every creators wish : to inspire people and bring clever design into our wardrobe.
Ending the show with modern brides, the Spring 2012 collection was a pure celebration of fashion. The only thing missing? A standing ovation.
[MARIE-CHARLES]
Photos by George Pimentel, courtesy of LG Fashion Week