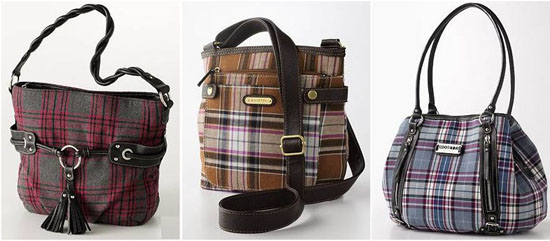 DALLAS, Oct 18, 2011/ — With the not so subtle references to grunge, Kurt Cobain and Nirvana, Rosetti brought us to the 1980s and early 1990s with its all plaid handbags.
No longer limited to clothing anymore, plaid has become a fun staple for accessories as well. Rosetti currently offers a variety of stylish and affordable plaid handbags including the Plaid Twist Hobo, Plaid Cross-Body Handbag, Harley Plaid Tote, Olivia Plaid Shopper and the Belinda Plaid Belted Braided Tote all seen below.
Each of these tartan handbags are available at Kohls and retail for less than $70.00.
Plaid Twist Hobo, $59.00
Plaid Cross-Body Handbag, $39.00
Harley Plaid Tote, $69.00
Olivia Plaid Shopper, $59.00
Belinda Plaid Belted Braided Tote, $69.00