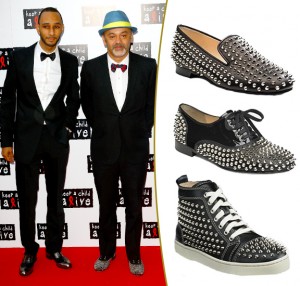 Christian Louboutin is known worldwide for his line of high-end women's shoes. Since the early 90's, he has been setting the bar in women's foot wear. After all these years, Louboutin has decided to try a new venture. Recently, Louboutin announced on his website that he will now start offering a line of men's shoes. Now men can be fashionable whether they are playing video poker at their favorite casino or out on the town with their favorite lady.
On Louboutin's website, he calls the new venture his Men's Starship Enterprise, modeled after the hit Television show Star Trek. His shoes will all have a 21st century flair all their own and his new gallery for the line will feature a modern high tech look to it.
Line Influenced by Mike and Alfie Thomas
The new shoe line is heavily influenced by both Mika and Alfie Thomas. In fact, the Alfie sneaker is a direct expression of the former rugby star's prowess on the field. Alfie has been a long time fan of the Louboutin line and said that today he owns more Louboutin shoes than he does rugby boots.
Another influence on the new line is Alfie's stars and scorpion tattoo. That led to an idea of a personalized tattoo shoe.
One of the unique features of the new line will be the ability of patrons to put their favorite tattoo on their new Louboutin shoes. The latest news is that the boutique will have a tattoo parlor in the back where patrons can have a tattoo measured, photographed, and then designed on a new pair of Louboutins. This will make each pair that uses this feature truly one of a kind.
Various Styles Under One Roof
Regardless of the style desired, the new line will try and meet the need. Whether you're looking for a stylish yet muted business shoe or a trendy durable sneaker, you should be able to find it in this line. Now, if you're one that likes to make a statement, you can definitely find the shoe to meet your need in the new line, including the Rollerboy spike, a studded slipper that at first glance looks like a rhinestone covered pair of bowling slipper.
While surfing the web checking out casinoguide and other sites, stop by Christian Louboutin's site and check out some of the new line. The new line of men's shoes by Louboutin is a bold venture, and he hopes to "boldly go where no man has gone before with the line."
Feel like some different kinds of shoes? You could buy toms shoes uk from Ozzys clothing
Photo: Swizz Beatz with Christian Louboutin
Photo courtesy of style.mtv.com