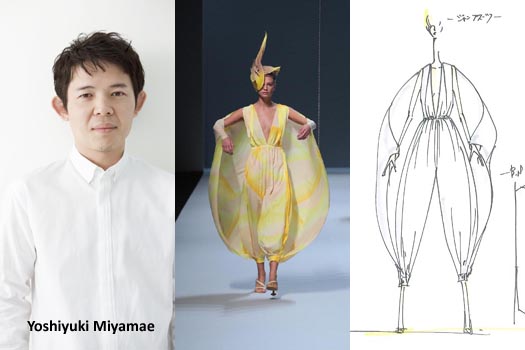 A Visionary of the future through fabrication of the past
NEW YORK, Nov 14, 2011/ — The third generation designer of Issey Miyake, Yoshiyuki Miyamae is both simple and complex.
During a one-on-one interview with FashionWindows, Miyamae spoke of quality, craftsmanship, creation, and the balance of the past with the intricacies of the future. Throughout the dialogue, we discussed the fast paced difference and similarity of New York and Tokyo, technology as it affects the industry, designer influences, and coming generation of designers and fashion.
Most designers think of themselves as artist, Miyamae's considers himself simply a designer. Newly appointed as the official Designer for Issey Miyake brand, his objectives is to create for his customers, to reach new heights while maintaining the traditions of design from his country.
Such techniques can be seen using highest technology both forward and traditional (high density in fabrication for a softer and lighter feel and drape, as seen in Look 37's printed hand silk dress with at least 10 different shades of yellow).
His juxtaposition of "gentle/vigor" and "kindness/power" can be seen in the contrasts of his recent collection. Miyamae-san speaks highly of Issey and models his work and design to quality, concept, and being open to many interests and curiosities. "There is no substitute to hand-worked creation. Human by action gives you the best value".
Preserving the techniques of the past to the next generation of designers is also another objective of Miyamae-san. These traditional Japanese techniques with new technologies and an unwavering eye is how he will take Issey Miyake to the next level – that will both maintain the brand and define his own signature. This visionary to maintain the legacies of the past while defining his 'touch' as a designer is what makes him truly grounded in his own right and by his own definition … simply a designer.
[ELGENE CASTUERAS]
Photos courtesy of Issey Miyake