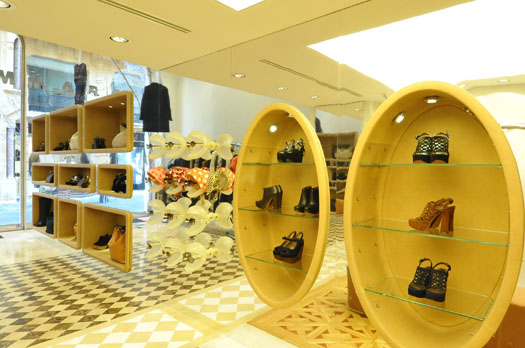 NEW YORK, Nov 21, 2011/ — Just in time for the holidays, Marni opened a new flagship store in Beirut.
Created in partnership with Aïshti, the new Marni outpost measures 105 square meters and reflects the culture and personality of the city in which it's located which by the way is how all Marni stores are designed.
The beautiful existing floors of antique wooden parquet and mosaic, dating from the original turn of the century, anchors the design within the heart and history of downtown Beirut.
In contrast, the rest of the shop is sleek and modern with a mirror polished stainless steel wall forming the backdrop to the main accessories display, punctuated with an array of fiberglass modules for bags, shoes and jewelry.
This wall, that reaches to the rear of the space, integrates the cash/wrap and a curved door accessing the fitting room area, while a mezzanine floor extends over the rear half of the boutique, screening stock room and services.
A large sculptural stainless steel rail, scaling up in size to highlight the double height ceiling at the entrance, winds up and around the space presenting the ready-to-wear collections. A huge, steel-framed Barrisol light inset in the ceiling casts warm, flattering light throughout the space.