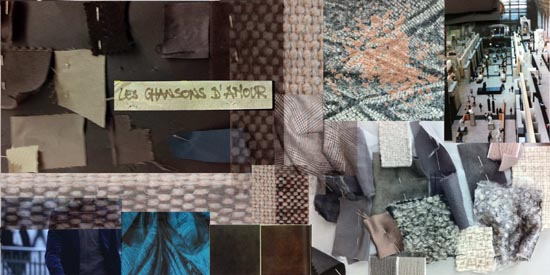 MILAN, Dec 20, 2011/ — A Parisian atmosphere, with the Canal Saint Martin and the 19th façade of the Gare de l'Est in the background and maybe a tune on the air: such is the scenario for the most sophisticated theme in the 18CRR81 CERRUTI Collection.
The silhouette is crisp and sober, with muted contrasts based on the juxtaposition of different fabrics or different nuances of the same colour. The palate ranges from dark brown and dove to sand, with flashes of petroleum blue.
For her, this colour palette is enriched by tones of glacé and pale dusty pink, while the shapes have taken on a vaguely androgynous air: the woman in this theme is new. Quilts are evergreen but not banal. This season's choice is nylon with a woolen texture print: the short model can be worn with a quilted maxi-scarf or as a gilet, while the long one has a removable woollen tricot gilet with frogs.
Somewhat lighter, there's a duster made of matte, polished nylon with thermal padding; its straight line is enlivened by a wavy neck. The overcoats have also been renewed: the designs are '50s, without a collar or with a removable one, or a robe coat with a frog fastening. Needle-punching of fabrics has been introduced to make coats in which the woollen cloth fades into a tricot band at the bottom, or woolen dresses or skirts in which lace is inserted to create a graded effect.
A more aggressive mix of materials – nappa leather and strips of elasticized fabric – is used in the short, collar-less jacket and the jacket with a wave-shaped fastening, the long-sleeved sheath dress with a zip on the front and the close hugging trousers, to be worn with knits or printed silk shirt-dresses.
The offering of flannel or sablé dresses brings back to the egg shape, with no marking of the waist and various glamour detailing, such as shoulder straps lined with tulle and old-effect metal sequins. Heavy stretch jersey trousers have started to flare again at the bottoms and are worn with knitwear that's simple in design but sophisticated in choice of materials.
In-tone mohair, lurex and satin yarns are woven together to create a dynamic look, while openwork felted mohair produces a lace effect in the oversize cardigans and crewneck or oversize pullovers.
For him, there's a line of slim-cut over garments and trousers made of sumptuous fabrics with a prevalently matte and woolly look. The duffel is diagonal weave wool with a padded gilet inside, while the trench is polished cotton with a woolly hand and thermal padding. Indispensable for quilts, nylon too features Prince of Wales prints, in a short model, a jacket with pockets and a single-breasted jacket.
Underneath, blazers are lined but casual in flavour, made of moleskin, light cloth with patch pockets, or satin tricot. As an alternative, the pullover with a hood or the loose-knit woollen cardigan-duster with varied stitches creating a dynamic effect and intensifying the lustre of the yarn.
Shirts are clean, adorned solely by their original cuts, very soft contrasts or subtly nuanced checks, while trousers are all chinos, coming in two versions: one sportier, with a soft leg, in macro-check canvas or wool, and one more classic (but updated in the crisp fit), in herringbone pattern wool or tone-on-tone pinstripe.