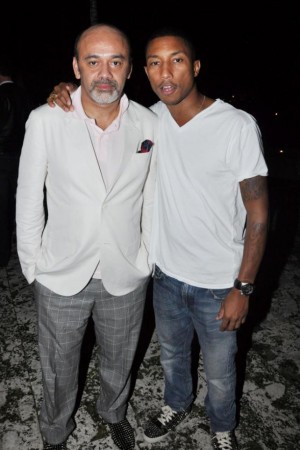 DALLAS, Dec13, 2011/ FW/ — Scheduled to be released by Rizzoli in October 2011, the new book "Christian Louboutin

" is a work of art in itself.
A stunning volume, it features a 5-piece fold-out cover, a binding of pink faux-leather, a magical interior pop-up, as well as gilded pages. With five chapters—A Life; The Shoes; Fetish; The Places; and Twenty Years—this elegant monograph reveals the artistry and theatricality of Louboutin's shoe designs, from his iconic stilettos to his fetishistic pieces and everything in between.
Beloved for exquisitely crafted shoes with signature lacquer-red soles, Christian Louboutin has achieved cult status the world over since creating his eponymous label in 1991.
With fantastic designs that incorporate everything from feathers and beads to exotic skins and more, his shoes are a constant presence not only on the red carpet, but also on well-heeled women around the globe.
Now, in the first book devoted to his glamorous creations, CHRISTIAN LOUBOUTIN (Rizzoli; October 2011) showcases the designer's extraordinary range of talents.
Along with intimate photographs from Louboutin's personal archives, the book includes spectacular new photography by David Lynch and Philippe Garcia which captures Louboutin's artistic sensibilities in vivid detail.
Further adding to the allure of the book is an in-depth interview conducted by Éric Reinhardt which reveals how Louboutin's inspiration for his work comes from the freedoms granted in his childhood, his life-long travels to distant lands, and how dynamic and rich friendships have contributed to his success.
CHRISTIAN LOUBOUTIN

By Christian Louboutin
Photography by Philippe Garcia and David Lynch
Contributions by Eric Reinhardt and Foreword by John Malkovich
Hardcover / 304 pages / 9 ¾" x 13" / 300 color illustrations
ISBN: 978-0-8478-3651-2
Price: $150 U.S., $160 Canadian, £85 U.K.
Rizzoli New York www.rizzoliusa.com
Publication Date: October 2011
CHRISTIAN LOUBOUTIN will be published simultaneously by Rizzoli in a French edition
Photo above: Christian Louboutin with PharrellWilliams and Elle MacPherson while he was in Miami for Limited Edition Experiences in December 2009