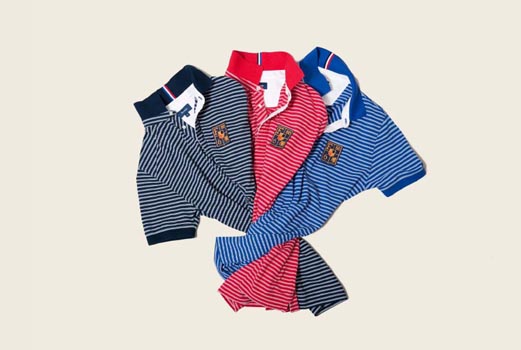 PARIS, Dec 6, 2011/ — Evoking the belle vie on the Riviera, Façonnable's new lifestyle Cruise collection is fun, fresh and full of new creations.
Now in stores and launched ahead of Façonnable's 2012 Spring/Summer, this collection embodies both youthfulness and sophistication of the Côte d'Azur thus combining practicality with luxury and elegant style.
Entitled, "The Joy of Spring", the Collection is easy to wear, comfortable and refined, keeping the real essence of Façonnable at its heart thanks to its the unique cuts, the use of the best textiles and the special mix of colors.
Despite the strong sense of modernity, the design team has mined Façonnable's heritage, evoking the iconic features that have made the label famous across the world. In sync with the warm, fresh climate of a Riviera spring, the collection covers the entire spectrum, working with blocks of revitalizing bright or more natural tones, with complimentary colors, often working together or sharply contrasting in the same piece.
Chic and distinctive, the hallmarks of Cruise for men are jackets. Short, functional, lightweight and supremely stylish, they are distinguished by their key features. The soft touch of the fabric, the comfortable fit and the creative use of badges and exclusive inner linings are here to be found.
Sweaters come in a variety of styles and textiles, resulting in the perfect range of knitwear for active guys. Made of velvety soft wafer thin mix of silk, cotton and cashmere, they are available as a v-neck, a round collar, a polo sweater or as a hooded cardigan.
The polo has always been a key menswear piece. In a twist on an all time classic style, Façonnable has produced a selection of polo shirts that play with pure colors each with a pie crest. The detailing is exceptional, the texture is richer and warmer, and the design is more versatile.
The Façonnable woman requires practical pieces that don't let her down on the style front. There is something reminiscent a young Brigitte Bardot or Jackie O, off duty and enjoying a cruise along the Côte d'Azur : Classic nautical stripes in blue and white on t-shirts and shorts; simple, knitted navy trousers made in the South of France, flattering fitted sweaters and, of course, the little black dress.
With a bold tone and modern lines, Cruise has a breathless energy. It is a true example of old meets new, history meets the modern day.