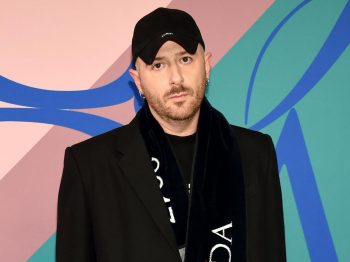 The designer has decided to end his adventure with the fashion collective founded in 2014
Demna Gvasalia will no longer be the creative director of Vetements. The Georgian designer has announced his farewell to the collective (to pursue new projects) with these words:
"I started Vetements because I was bored of fashion and against all odds fashion did change once and forever since Vetements appeared and it also opened a new door for so many. So I feel that I have accomplished my mission of a conceptualist and design innovator at this exceptional brand and Vetements has matured into a company that can evolve its creative heritage into a new chapter on its own." – Demna Gvasalia
The news comes as a surprise, and casts a shadow over the brand's future, confirming the long-running rumors in the industry according to which the streetwear label is dead. Last June, in fact, nss magazine also highlighted the crisis of Vetements, a creative regression that has led to a substantial loss of customers and interest in the label. Although the French company immediately denied any rumors about its bad state, Demna's new decision seems more revealing than many words.
What will happen to Vetements now? Following his praise of Demna's work, Guram Gvasalia responded without giving away too many details:
"Vetements has always been a collective of creative minds. We will continue to push the boundaries even further, respecting codes and the authentic values of the brand, and keep on supporting honest creativity and genuine talent. What Demna has accomplished over the past few years represents a key chapter in the story of Vetements. We are very grateful to Demna for having contributed to the great momentum of the house." – Guram Gvasalia
And then he added:
"This moment signifies a new era for Vetements, an era of growth and major expansion. New projects and surprise collaborations are to be revealed in the very near future."
Will there be a transformation in the company's future similar to that of Gosha Rubchinskiy, a designer who, together with the Gvasalia brothers, has helped to impose the ugly aesthetic of post-Soviet style and who currently works on capsule collections and collaborations with other brands? Maybe. The only thing we know for sure up to now is that Demna Gvasalia will continue to be the creative director of Balenciaga and that it will be showing its SS20 collection on September 29th during PFW.