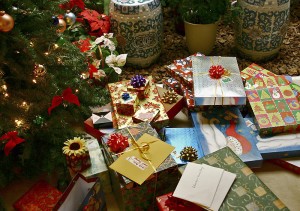 WASHINGTON D.C., Dec 7, 2011/ — Gift receipts are more popular than ever among holiday shoppers, the National Retail Federation 2011 Holiday Returns Survey surmised.
According to the NRF survey, 61.9 percent of holiday shoppers say they provide a gift receipt most or some of the time, the highest percent in the survey's history.
Putting it in layman terms, gift givers understand that there are times their gift may not be the biggest him hence they are offering their loved ones the option to return their gift guilt free.
"Gift givers would rather their loved ones enjoy and make the most out of their gift than feel guilty for returning it, and providing a gift receipt guarantees a seamless and efficient return process," said NRF President and CEO Matthew Shay.
While gift receipts are increasing in popularity, many gift recipients said Santa brought just what they wanted last year. According to the survey, six in 10 (64.5%) holiday shoppers say they didn't return a single gift last holiday season.
NRF's tips for stress-free returns after the holidays
1. Know the retailer's return policy before you buy. Most retailers have return policies prominently displayed, especially at this time of year. Gift-givers should read and remember them. If policies are not clearly displayed, ask a sales associate or a manager to explain them to you. Most retailers also outline their return policy on their website.
2. Save and file all receipts! Receipts are still the key to hassle-free returns. Some retailers will allow consumers to exchange merchandise without a receipt, but oftentimes will only provide merchandise credit for the lowest markdown price at which the item was sold during the holiday season. Make sure to provide the recipient with a gift receipt to save hassle after the holidays.
3. Provide all original packaging and all parts (including tags) when giving a gift. Some retailers won't accept returns unless the item is in its original package. If you plan to take back a gift after it is unwrapped, resist the urge to open it or play with it. No one wants to buy someone else's merchandise.
4. Make online returns easy. Returns are a part of shopping, no matter where you buy. In addition to the other rules of returns, here are a few things to find out before you purchase a gift online:
– Know the process: Who pays for return shipping – you or the merchant? Some merchants will pick up the delivery charges for exchanges, but not for returns; others offer free return shipping on every return.
– Where to make returns: Does the retailer have a physical store, and can returns or exchanges be made there? Make sure you have the correct address if you need to mail returns back to the company. Some merchants have offsite service centers to handle returns that may be in a different location from where the merchandise is sent.
5. Be patient. Remember, the week after Christmas is one of the busiest weeks of the year for retailers. With people's frustration high and tolerance low, be patient when returning merchandise.