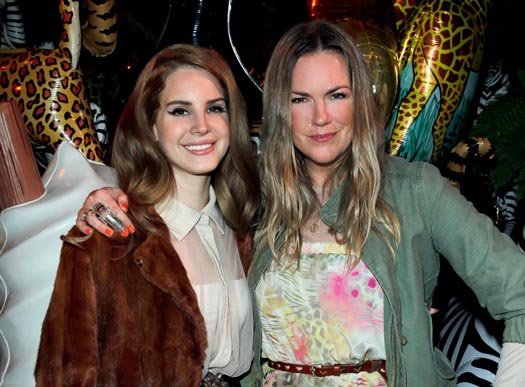 LOS ANGELES, Dec 9, 2011/ — Last night at the historic Chateau Marmont at West Hollywood's Sunset Boulevard, Mulberry's Creative Director Emma Hill hosted an exclusive pool party with Hollywood and fashion's who's who in attendance.
With a live performance by Lana Del Rey as the main attraction for the night, guests were also served a delicious selection of crab cakes, salads, roasted chicken or salmon, with lemon tart for dessert for dinner.
Balloons in the shape of tigers, giraffes, zebras and leopards were tied to the backs of chairs – a reference to one of the prints from our Spring Summer 2012 season which was inspired by the balloons and features throughout the womenswear collection.
Post-dinner entertainment was provided by DJ Twin Shadow, as partygoers danced the night away surrounded by supersized ice-creams, colourful fairy lights, inflatable animals and beach balls – all the elements from our Spring Summer 2012 catwalk show!
Guests were presented with new season goodie bags before they left, containing a Bandeau Bikini in our Bonkers Beach print, a Summer Visor, Bow Jelly Sandals, the Donkey Sweatshirt and Tote and a Rosie Satchel in vivid Nightshade and Grass Green print.
Guests paid homage to Mulberry by opting to don pieces from the label's upcoming Spring 2012 collection.
Emma Hill – wearing the Long Tube Dress in Multi Colour Airbursh Animal Print and the Baseball Top in Pebbled Beige and carrying the Lily with Teddy Rivets in Oak from SS12
Kate Bosworth – wearing the Shift Dress in Nettle Green from SS12, the Boyfriend Jacket in Pheasant Green from AW11 and the Gem Pumps in Nightshade Blue from SS12 and carrying the Harriet Clutch Wallet in Nightshade Blue from SS12
Alice Eve – wearing the Long Shift Dress in Nightshade and the Woven Character Sandals in Nightshade and carrying the Alexa in Nightshade Blue Silky Snake from SS12
Lana Del Rey – wearing the Long Shirt Dress in Pebbled Beige and the Mulberry Signature Pumps in Camel Leopard Haircalf from SS12
Juno Temple – wearing the Bow Back Gems Dress in Light Blue Denim and carrying the Travel Day Bag in Oak from SS12
Atlanta De Cadenet – wearing the Full Sleeveless Dress in Nightshade Broderie Anglaise and carrying the Lily with Gems Nightshade from SS12
Louise Roe – wearing the Baseball top in Lemon Sherbert, the Eyelet Skirt in Plaster Pink Lambskin, the Woven Character Sandals in Marshmallow White and carrying the Holiday Small Bayswater Satchel in Lemon Sherbert from SS12
Jamie King – wearing the Scout Shirt in Pale Blue Stripy Straws Print and the Full Skirt in Light Blue Denim from SS12
Cat Deeley – wearing the Hooded Jacket in Black Leather and carrying the Lily with Gems in Black Suede from SS12
Harley Viera Newton – wearing the Pleat Front Dress in Pebbled Beige Metallic, the Bow Pocket Jacket in Multi Coloured Beach Boucle, and the Woven Character Shoe in Wheatfield and the carrying Mini Teddy Bag in Plaster Pink from SS12
Gia Coppola – wearing the Windbreaker in Pebbled Beige from SS12 and carrying the Alexa in Leopard from AW10
Natalie Love- wearing the Mini Biker in Nightshade Blue Star Lace and carrying the Lily with Patchwork Gems in Pebbled Beige from SS12
Ashley Madekwe – carrying the Alexa in Marshmallow White & Brown Spotted Haircalf