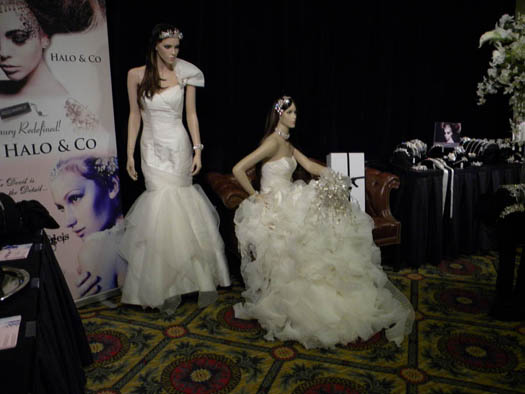 NEW YORK, Apr 15, 2011/ FW/ — "Something old, something new, something borrowed…" to a bride, these are words to live by when planning her wedding. Now, what if, a bridal company can provide you with all of those?
UK-based Halo & Co, designer and maker of luxury headdresses has become a by-word among brides, and believe it or not, A-list celebrities who just love wearing these stunning headwear and accessories. And because the headdresses are so precious, they become instant heirlooms and thus, after being something new to a bride, it becomes something old and something borrowed for the next one.
Meeting Stephanie Ball, Creative Director of Halo during Bridal Market, she exclaims, "Five years ago, a bride bought one of our Halo headdresses and since then, it had been used by three more brides! That's how popular it is."
A finalist as Best Headdress Designer at the 2011 Bridal Buyer Awards, Stephanie Ball tells the secret Halo's success: "Year after year I look to build on the success of Halo & Co by reinforcing our look with new and innovative ideas."
"Whether it's something as sophisticated as our crystal bouquet, or something as simple as a dainty headpiece, I look to manage the blend between harmony and movement. By experimenting with new materials and manufacturing techniques we are constantly able to reinvent the essence of our lines year after year," Stephanie added.
Because Halo & Co design and manufacture everything in-house, no two styles are the same ensuring that the bride will stand out on your big day (Weddings, Award Shows, Red Carpet, Galas or just a night out on the Town).
Using stunning combinations of crystals, diamantes, beads, pearls and filigree metalwork the end result is elegance and sophistication that is there for all to see!
The Halo & Co collection features statement pins, combs and a plethora of fabulous jewels in gold and silver, some with enameled flowers on pretty headbands and combs and modern sidepieces for the Fashionistas.
[MARI DAVIS]
Bridal Fashion Week Spring 2012