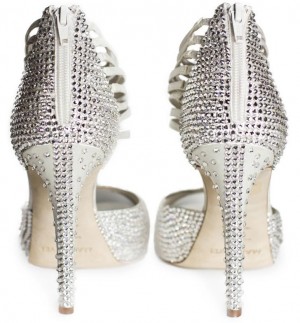 DALLAS, Dec 20, 2011/ FW/ — With Patricia Field choosing Mary-Kyri shoes for the models in the "NO MAKE-UP, NO FASHION" event presented by Maybelline China, the Australian shoe label once again proved its versatility.
A catwalk-style presentation, "NO MAKE-UP, NO FASHION" presented eight different looks adding a high fashion / pop aesthetic scenario from the runways of Spring 2012, including 'Attending a Lady Gaga concert' and 'Working Girl in Manhattan'.
For the event, Patricia Field, the famed stylist of Sex & the City and The Devil Wears Prada chose 8 eight styles from Mary-Kyri Shoes including: Lassa, Zoa, Shaida, Lovai, Sarafina, Sadia, Sharla and Jualla being a design from the Bridal Couture and Evening Collection.
With the selection of the Jualla came a request to crystallize the designs it was to be styled with a heavily embellished colored crystal corset and soft mini tutu.
'It's always an honor when you are selected to work with the best in the industry", says Mary-Kyri, Director and Designer. Mary-Kyri has developed a reputation for designing beautiful, distinct, highly fashionable stilettos made from the finest Italian leathers and components produced entirely in Italy.
Celebrity fans of the label include Jennifer Lopez, Dannii Minogue, Kylie Minogue, Cheryl Cole, Kate Moss, Katie Holmes and The Veronicas.