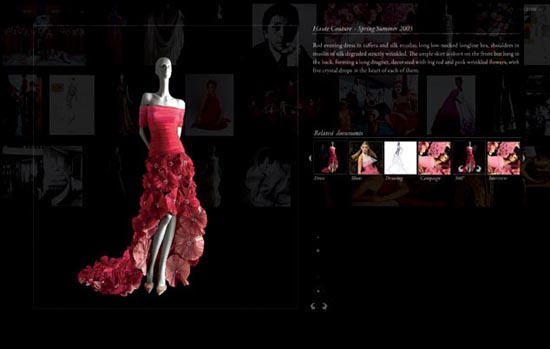 NEW YORK, Dec 5, 2011/ FW/ — Cyberspace just turned uber fashionable with the official launch of the Valentino Garavani Virtual Museum, a downloadable desktop application connected to an online database that uses a real time 3D technology to create an immersive environment featuring the work of designer Valentino Garavani for the past 50 years.
Over 300 dresses from the Valentino Garavani archive were captured for the museum and the content had been arranged in a museum layout where users explore the different galleries and wings covering what would be over 10,000 square meters in an actual museum.
As described, "You are in a beautiful room permeated by brilliant sunlight, with gossamer clouds just visible through a white-latticed ceiling. The most divine fashions on earth dot this internal landscape, and as you glide—invisible, unseen—through this chamber and the succession of salons that follow, you find more visions of miraculous dressmaking."
The place only exists in cyberspace, and thanks to 3D technology, you can experience it like if you were in a brick & mortar museum.
Conceived by Valentino Garavani and Giancarlo Giammetti, the Valentino Garavani Virtual Museum invites visitors to explore, in-depth, not just the house's archive — which the House of Valentino has made available for this project in honor of the heritage of the brand — but also Valentino's enthralling back story: his long partnership with Mr. Giammetti, the many fetes that have been enhanced by his amazing frocks, and even a Master Class where the designer himself will take you through his creative process.
Visitors can almost literally immerse themselves in a series of marvelous galleries: seven "rooms" of pure fashion grouped together under the rubric "Themes and Variations," with such categories as "Prints and Pastels" "Black and White" "Animal Prints" "Embroidery," displaying hundreds of dresses and culminating in—what else? the Red Room, where 63 glorious examples are happily ensconced.
Mr. Giammetti, who first thought of the idea of the museum, says of its special, almost surreal atmosphere, "I wanted to have the light of Rome without looking old… to create an architecture that belongs to Italy, and to Rome, Valentino's epicenter…"
What makes the Valentino Garavani Virtual Museum most extraordinary is the way it allows you to search for whatever imagery and information your head and heart desires. In the media library, a vast mosaic wall that can be browsed horizontally displays all the available images in the data base—approximately 5000 images including dresses, photos, drawings, and 180 fashion show videos.
Asked what most pleases him about the project, Valentino says, "I see it as part of my legacy. I am happy that thousands of students, young designers, and fashion people will be able to see and study my work in every aspect of it, and in a manner easy and accessible for the younger generations. But it is also important to remember things of the past, to review the fashion that has shaped our lives. I love to spend time in the Museum."
www.valentino-garavani-archives.org
Photos courtesy of Valentino Garavani Virtual Museum