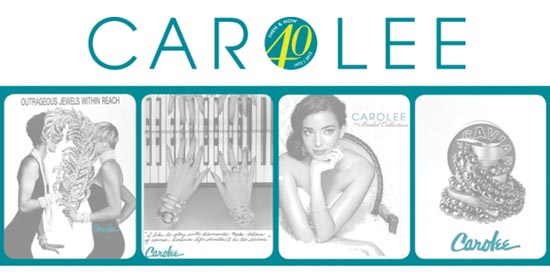 NEW YORK, Jan 10, 2012/ FW/ — Celebrating its 40th anniversary this year, CAROLEE continues to follow its original vision of designing distinctive jewelry for the contemporary women while also announcing several new programs to reflect a younger generation of CAROLEE.
Partnering with New York's prestigious Fashion Institute of Technology (FIT), CAROLEE is launching a student design competition in which students will be challenged to honor the heritage and DNA of the CAROLEE brand while moving the designs forward in celebration of its 40th Anniversary.
One winner will be named in each of four categories – Pearl, Metal, Social Occasion and Fashion – which will be judged by a panel consisting of CAROLEE executive and design staff and FIT professors.
Winning jewelry designs from the FIT competition will be shown in the Bloomingdale's 59th Street windows in September as CAROLEE launches the product at retail with a retrospective of 40 years of jewelry design inside the store.
In addition, CAROLEE will be releasing a Legacy Collection that will pay homage to past CAROLEE collections and will benefit the brand's long-time partner, The Breast Cancer Research Foundation (BCRF).
Taking cues from CAROLEE's biggest fashion hits from 70s, 80s, 90s, and first decade of the new millennium, this collection will consist of the most iconic jewelry pieces since the company's start in 1972.
Also on the agenda for Spring is a limited edition exclusive charm bracelet for each of the company's major retail partners featuring iconic charms unique to that store. Five dollars from each charm bracelet and Legacy Collection piece will go to BCRF.
In response to ongoing trends and rising consumer demand for ladies' fashion watches, CAROLEE is also introducing a beautifully designed collection of timepieces that are made with the same attention to detail and quality as its jewelry.
The watch collection, launching worldwide in 2012 with an MSR of $125 to $350, fuses functionality and elegance, a representation of CAROLEE's prowess in the art of jewelry design of the past 40 years.
CAROLEE is distributed in fine department stores across the US, worldwide and at carolee.com. The label continues to grow at 40 as it expands to meet International consumer demand.
The brand has recently unveiled a new boutique in The Bay Toronto. In addition, CAROLEE has expanded its doors to include Robinsons department stores in Malaysia and Singapore; Karstadt, the leading and largest department store group in Germany; and Maboli stores in Taiwan.
Given these recent developments, CAROLEE is proud to announce that its jewelry is available in 33 countries worldwide.