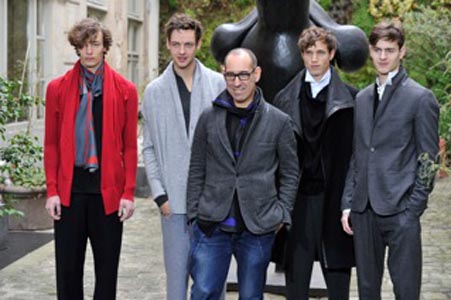 PARIS, Jan 22, 2012/ — With a purposeful move to return to elegance, Gustav Lins set out to refine the male wardrobe to meet the needs of the emerging elegant man of the 2010s.
Working with a selection of his previous flagship creations, the designer has drastically re-examined each garment's finishing and uses, eliminating the superfluous and rethinking their wearer comfort and practical components.
Simply entitled 018 Collection, for Fall 2012 Gustavo Lins proposed a and rigorously composed corpus: a very constructed overcoat cut in double crepe, another sportier version in reversible wool and cotton poplin, and the ampler, 'Blanket" model in cashmere.
There is a classical jacket with architectural shoulders, a satin leather tuxedo version for the evening, and another cardigan-type model with effaced shoulders.
For a more athletic look, a short leather reefer jacket warmed with cashmere. Two shirt designs, one with a cravat collar, the other with a high collar.
A pair of straight trousers with no side seams cut in "partridge eye" weave cotton, another spiralled model with ultra-tight-fitting legs, and a third ampler version with a "dagger" fold at the front. The colour range is quite strict – black, deep blue, light grey and slate grey – but it is the knitwear pieces that brighten this palette, with ink blue, chalk white and blood red spiralled cardigans and pullovers with large polka dot motifs.
And to complete this wardrobe, there is an ultra-luxurious knitted jersey jogging suit with a ribbed border at the bottom, emphasising the athletic spirit of the entire collection yet combinable with more structured tailored pieces.
The leather braid highlighting is now generally restricted to the collar stand, piping and turned-up cuffs. The result is an ensemble of instantly seductive, comforting garments, easy to wear by day or night in a variety of combinations. With their formal clarity and the great care taken over detail, Gustavo Lins has dynamized the classical wardrobe of the urban cosmopolitan man.