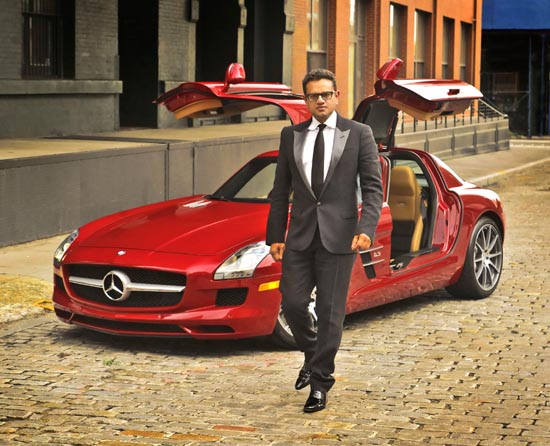 NEW YORK, Jan 27, 2012/ FW/ — A fashion week veteran, New York-based designer has been named the "Mercedes-Benz Presents" designer for the upcoming Mercedes-Benz Fashion Week Fall 2012 season.
Known for adorning Fifth Avenue socialites and celebrities in his luxurious collection of impeccably cut dresses, sophisticated gowns and chic separates, Naeem Khan is admired for his highly-crafted embroidered pieces and breathtaking gowns that grace the catwalk season after season.
Naeem Khan dresses many of the world's most stylish women including clients such as Beyoncé, Penelope Cruz, Katherine Heigl, Emily Blunt, Taylor Swift, Lea Michele and First Lady Michelle Obama.
In 2008 Khan was inducted as a member of the prestigious Council of Fashion Designers of America. Naeem Khan continues to evolve as one of the hottest names in the fashion industry today.
"As a lifetime Mercedes-Benz owner, the honor of being chosen as the 'Mercedes-Benz Presents' designer has a very special meaning to me," says Naeem Khan. "I am thrilled to receive this accolade from a brand that shares the same passion for innovative design and quality craftsmanship that I do."
In its ninth year, the "Mercedes-Benz Presents" program continues to create unique experiences that tie fashion and automobile design together while supporting the growing needs of Mercedes-Benz Fashion Week designers.
Each season, a designer is chosen that demonstrates an unparalleled talent and a dedication to the use of quality materials, unique style and innovative design, all characteristics that define the three-pointed star. Khan joins a prestigious list of past "Mercedes-Benz Presents" designers including Carolina Herrera, Monique Lhuillier, Badgley Mischka, Narciso Rodriguez, and CHADO Ralph Rucci.
The Naeem Khan runway show is being held on Tuesday, February 14th at 2pm in the Theatre. The Naeem Khan collection consists of impeccably cut dresses, sophisticated gowns and chic separates – all embroidered by hand.
Khan was born in India and cultivated his vast knowledge of textiles under the watchful eyes of his grandfather and father, both well known in India for designing intricate clothing worn by the royal families.
Khan moved to the United States as a teenager and apprenticed for Halston, where he absorbed the ethos of modern restraint, and the secrets of draping and cutting fabric to create a clean, elegant, timeless silhouette.
The Naeem Khan line was launched in 2003 in New York and began selling at Bergdorf Goodman, Neiman Marcus and Saks Fifth Avenue. Since then the collection has grown to be sold at more than 100 specialty stores across the world.
[SARA CONDE]