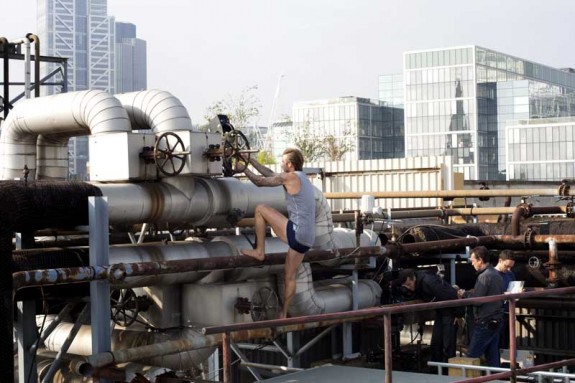 NEW YORK, Jan 10, 2014/ — David Beckham might not be that kind of football player, but he will grace Super Bowl XLVIII with a cutting-edge commercial for the new H&M campaign for David Beckham Bodywear.
And in anticipation of the launch of this new ad, David Beckham will also make his first ever appearance at the new H&M Times Square store.
H&M will unveil a 30-second high-octane David Beckham TV spot featuring never-before-seen technology from Delivery Agent that brings a new level of consumer engagement and measurement to Super Bowl advertising.
In an industry first, viewers with select Samsung Smart TVs will be able to buy pieces from the new David Beckham Bodywear collection instantly during the Super Bowl through the t-commerce platform.
H&M is the first retailer to launch a fully enabled t-commerce campaign that includes shopping from a commercial, as well as launching an H&M t-commerce boutique in the ShopTV™ marketplace, bringing pieces from the David Beckham Bodywear collection to consumers across the United States.
The innovative technology will be demonstrated by both Samsung and Delivery Agent at the
International CES show this week in Las Vegas.
The cutting edge David Beckham Bodywear commercial will air during the 2nd quarter of the big game. The new collection marks the fifth season for H&M's David Beckham Bodywear line, with nine styles designed in collaboration with the famed soccer player. The collection has quickly become a staple for men worldwide since its 2012 debut.
In anticipation of the collection launch, H&M will run a grand prize giveaway via Facebook and in-store from Jan 6th through January 19th. Consumers who log onto H&M's Facebook page and provide their email address will be entered to win a three night trip to New York City, two tickets to Super Bowl XLVIII and the opportunity to meet David Beckham.