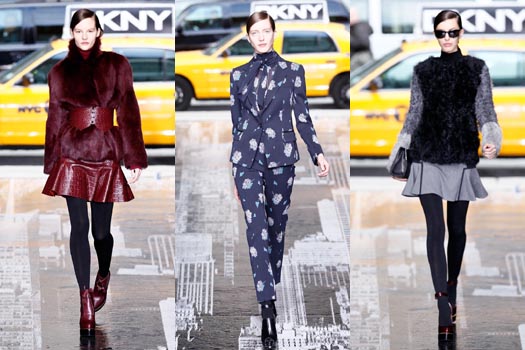 NEW YORK, Feb 12, 2011/ — On the way to the DKNY show, I saw a billboard saying "New Yorkers are not better than anyone else, they just dress better."
Seeing the DKNY show and reading from the press notes that the Fall 2012 collection "are clothes design for New Yorkers" made me realize that the billboard's claim is true!
Inspired by the beat generation, Donna Karan designed a predominantly black collection interspersed with gray and blue for highlights. Leather is the fabric of choice as it was used in skirts, jackets and coats.
Interestingly enough, though the colors and the silhouettes are bold, the collection remained feminine. Definitely a collection for the metro girl!
And the best thing about it, you don't have to be a New Yorker to wear it. In fact, the collection is just too covetable to stay in the Big Apple. It will surely find its way to an urban girl's wardrobe.
[MARI DAVIS]