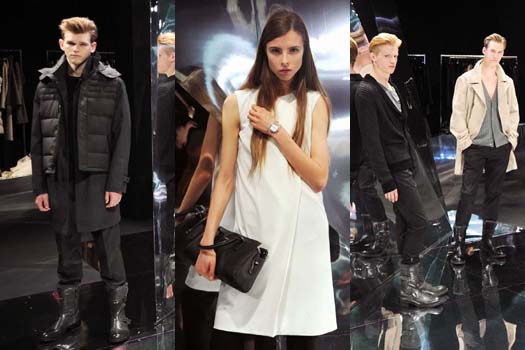 NEW YORK, Mar 24, 2012/ — For handbags, this season is all about the envelope clutch in a graphic textured leather. On the bags, as well as on belts and shoes, a sleek, glossy silver tone blade becomes a distinctive, modern ornament.
The women's shoe of the season is high and sexy. Available in a pump or mid-calf and tall boots, the silhouette features a built-up platform, stacked heel, and square toe. A waxed treatment creates the ideal sheen on the leather styles, offered in dark brown, mink, and black.
For men, the statement shoe for fall is a refined, double buckle leather boot, which pairs back to the urbane sensibility of the clothes.
Celebrating the fifteenth anniversary of ck Calvin Klein Watches and Jewelry, this season highlights the brands' cutting edge, yet timeless designs for men and women.
Lastly, for the fast-paced city life – metro, molded hard case luggage with a logo engraved silver band.