LOS ANGELES, March 26, 2012/ FW/ — Entitled 'L.A. Fashion Weekend', last weekend was L.A. Fashion Weekend, which was a three-day fashion extravaganza held in the heart of Hollywood at the legendary Sunset Gower Studios that featured an opulent array of the finest in couture and fearless style.
This exclusive fashion event, also known as The True Home of Los Angeles Fashion Week, boasts being the only Los Angeles fashion runway bold enough to be broadcasted live by Los Angeles' top-rated news source, KTLA 5.
The producer of L.A. Fashion Weekend, as well as the founder of the fashion marketing firm, The Gallery L.A., is Mikey Koffman who has been at the forefront of bringing Los Angeles fashion to the rest of world, as well as a pioneer in the creation of Los Angeles Fashion Week.
The designers that kicked off L.A. Fashion Weekend this year included the fun-loving and energetic designer, Betsey Johnson, followed by the A-List celebrity favorite Dina Bar-EL, as well as the international French brand Vilorija, that showcased elegant, futuristic looks.
The second night of L.A. Fashion Weekend featured the emerging brands that are on the cusp of stardom including LAHA children's line, The Ashlee Brooks Collection, which is a glamorous woman's line, SKINEEZ Skincarewear, a chic undergarments line, and Sarahi's upscale couture pieces that are specialized for tall women.
The finale show of L.A. Fashion Weekend, which was broadcasted LIVE on KTLA 5, gave a special dedication to the glamour of television studios and Hollywood. This special night's line-up included NBC's Fashion Star designer Lizzie Parker, Alexis by Tal Sheyn, a line co- designed with Alexis Bellino of Bravo's The Real Housewives of Orange County,and the much anticipated new season of Gossip Girl by Romeo & Juliet Couture, which is an apparel collection inspired by the CW hit television series and its beloved characters.
Sponsors that partnered with L.A. Fashion Weekend for the event included the popular and trendsetting brands such as the official beauty partners Napoleon Perdis cosmetics and LiQWD professional hair care, Little Black Dress Vodka, Chambord Liqueur, Pharrell William's Qream, Diabolo Natural Soda, Zenify, and AguaCon Water.
Also, L.A. Fashion Weekend partnered with the Mondrian's SkyBar, which is one of Hollywood's most sophisticated nightspots, to host the official after parties after each fashion show.
For more information on L.A. Fashion Weekend and The Gallery Los Angeles, check out:
Website: www.TheGalleryLA.com
Facebook Page: http://on.fb.me/GU4sJW
Twitter: www.Twitter.com/TheGalleryLA
MySpace: www.MySpace.com/TheGalleryLA
Contact Number: (323) 330-1845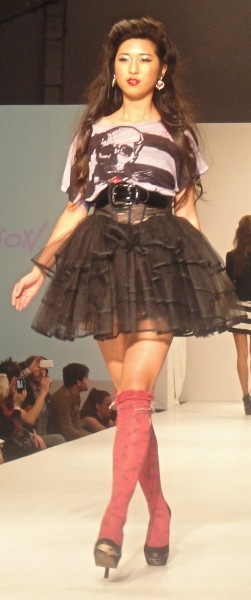 Betsey Johnson Fall 2012 Collection during L.A. Fashion Weekend
[DARBY RADCLIFF]
Photos by Hannah Poindexter and Darby Radcliff