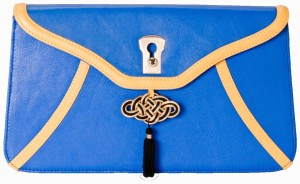 NEW YORK, MARCH 15TH 2012- Spring always brings its share of changes. Season of love, spring brings the sun and gets people in a cheerful mood. And who says new seasons also means new wardrobe… And what better way to make this smooth transition, than by buying a new handbag? The young brand Me Char offers us a delicious spring collection, which will certainly color brighten our spring days.
Charmaine Ho, 26 years-old, graduated from Parsons, created a collection which incorporates her love for structure, shapes and colors. As she told FashionWindows "I love to investigate and find out how the shape is draped or how the silhouette is done" In her recent collection, this interest is translated into clever shapes and playful structures that give a new life to the classic leather bag. But what makes her creations even  more distinct is her "Boy Meets Girl" and "East Meets West" signature.
Her handbags are a mix of sexy and functional, a key when designing her products. "I think the most essential things are weight and functionality, because a bag is more than a bag now; it becomes a personal closet, where you hold all of your works and personal matters. Light-weighted is important for daily use so we can put as much as possible into the bags without hurting our shoulders. And so does functionality, if a bag is beautiful but can't function properly, it becomes a waste."  Finally someone who express our deepest thoughts!
This season her main inspirations is a colorful and extreme Edie Sedgewick, who somewhat relates to Charmaine's own concept of bold and vulnerable. The Muse is honest and daring, yet very sensitive and loyal, and Charmaine Ho used it by mixing bold colors and shapes, while giving a great attention to details, showing a more delicate side of her designs. We like how the designer dares to create unexpected mixes and translate women sexy and playful side.  Most of the shapes are very retro and by adding some modern elements such as piping and hardware, Charmaine succeeded to make it look more updated. Each items of the collection is playful, stylish and definitely edgy. Needless to say why we totally understand why Charmaine would love to see Sienna Miller carrying her bags.
While waiting for the sun to come up, we can wait to get our hands on one of these fabulous bags! Fashion lovers must have! (Psst… Our favorites are definitely the Mini Beryl Bag and the Kary Clutch!)
For information and online sales : www.mecharhandbags.com
[MARIE-CHARLES]