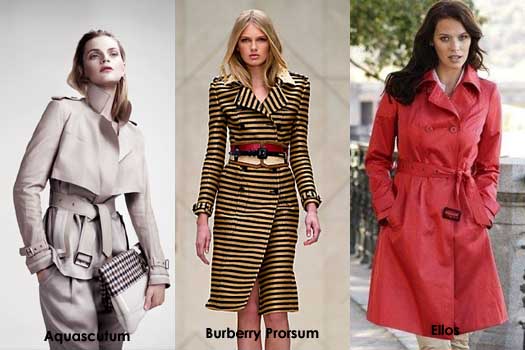 LONDON, Mar 12, 2012/ — Will the TRUE trench coat please stand up! From double-breasted or single to how many D-rings are going to be used, the trench coat had gone so many permutations since it became a part of the British and French military uniforms in World War I.
In fact, up to today, designers have a penchant of reinventing the trench coat every three to six months and thus new silhouettes are added season after season. So, now, you can understand why fashionistas are so enamored with it!
Well, truth is, the whole world has been fascinated with the trench coat since it came into the scene. An old article from The New York Times dated August 29, 1917 proclaimed "Trench Coats in Demand" so much so that the newly commissioned Army officers from Plattsburg [New York] asked that it became part of the government issued uniforms.
And talk about military-inspired fashion! As most fashion followers know, designers are fond of taking elements from military uniforms in creating high fashion. The trench coat stands out in the sense that it is one of the few that was taken as a whole and then reinvented and reworked season after season while its function and silhouette remain the same.
History might disagree who invented the trench coat with both Burberry and Aquascutum, two venerable British design houses having very valid claims to it.
Yet, the whole world agrees that the trench coat has entrenched (no pun intended) and embedded itself to our wardrobe for over 100 years.
The army officers from Plattsburg, New York might have demanded for the trench coat to be part of their military uniform in 1917, but thank goodness, fashionistas do not have to do that today. Almost all fashion houses, Burberry and Aquascutum included, offer their own version of the trench coat season after season.
In fact, there is no excuse for you not to have a new trench coat this season. At www.ellos.co.uk, you can buy now pay later for the wide at bottom, double-breasted, yoke on back trench coat that features pockets on sides and pleat on back.
[MARI DAVIS]
Photos courtesy of Burberry Prorsum, Aquascutum and Ellos