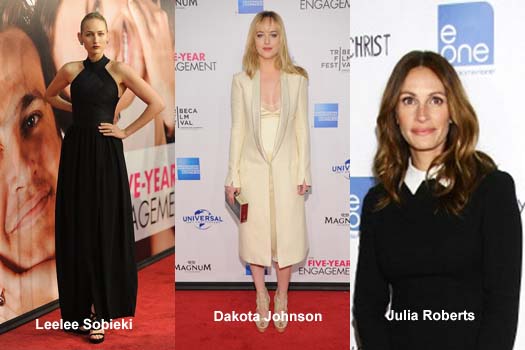 DALLAS, Apr 19, 2012 — New York takes center stage this April with the Tribeca Film Festival with Leelee Sobieski and Dakota Johnson in the thick of things.
Leelee Sobieski, star of the new CBS series, NYC 22 owned the red carpet at the Tribeca Film Festival's opening night premiere of "The Five Year Engagement" wearing a halter gown from the Boy by Band of Outsiders Fall/Winter 2012 collection.
Still at the Ziegfield Theater where Tribeca Film Festival kicked off with "The Five Year Engagement," Dakota Johnson turned heads with her gardenia cotton crepe jacket with silk jacquard shawl collar over a gardenia silk crepe/tulle slip dress from the Spring 2012 Calvin Klein Collection, designed by Francisco Costa, the brands' Women's Creative Director.
Ms. Johnson also wore Calvin Klein Collection porcelain satin lace up stilettos and carried a black stingray clutch with metal detail.
Meanwhile, in the West Coast, Julia Roberts looking stunning as always in Victoria, Victoria Beckham Fall 2012 Contrast Collar Fitted Wool Dress in Black and Cream when she attended the 'Jesus Henry Christ' Los Angeles Premiere on April 18, 2012.
[MARI DAVIS]