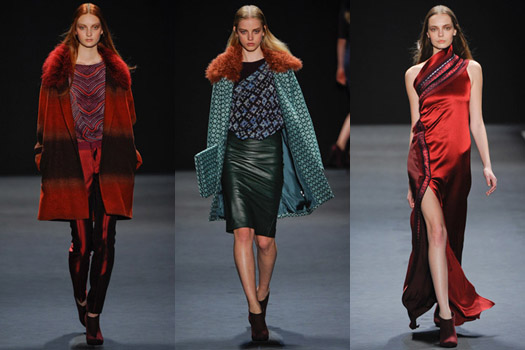 NEW YORK, Apr 6, 2012/ — Unveiled last February in New York, the Vivienne Tam Fall/Winter 2012 collection is inspired by memories of "Lost Horizon" and a trip to Chengdu, China. Both experiences formed, in her imagination, a new Shangri-La.
For those who have read the novel or seen either the original 1937 movie or the 1973 remake, "Lost Horizon" is about peace and achieving utopia. And though chances are we will not see that in our lifetime, Vivienne Tam shared her vision of perfection with her Fall 2012 collection.
Above the knee dresses and separates, metallic pencil cut trousers and pleated hipster pants which are done in subdued shades evoke a peaceful and relaxed mood.
In a very harried life that we live each day, being reminded to relax and given that chance by putting on a dress is a well-deserved luxury that every woman should enjoy.
[MARI DAVIS]