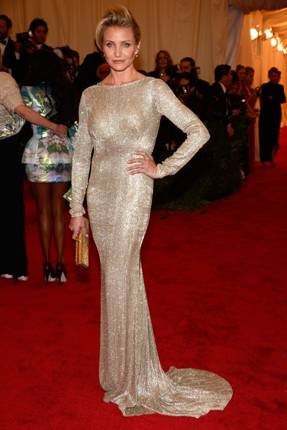 NEW YORK, May 8, 2012/ — The red carpet turned "green" when Cameron Diaz wearing a Stella McCartney diamond crystal fringe embroidered long gown on organic silk with a gold metal perforated clutch walked in.
Cameron Diaz dazzled in an original Stella McCartney gown made in collaboration with the Green Carpet Challenge (GCC) revealing herself to be a sustainable style icon. The dress is a custom design that Stella worked on with Cameron and is made from organic, certified silk which provides the backdrop for thousands of glass beads and crystal chain.
GCC founder, Livia Firth says, "Yet again the GCC has been given a window on the supply chain and incredible technical processes involved in producing fashion at this level and Stella McCartney has allowed us to influence this process. Our next goal is to tackle the sourcing of embellishment materials."
Livia Firth also dazzled in a sumptuous Prada piece. Made to conform to the GCC's criteria, the black panelled gown mixes certified silks, tulle and chiffon with sustainably harvested ostrich feathers and end-of-line British made lace.
Speaking of Stella McCartney, the designer also attended the event wearing one of her own creations – a black all-in-one and pearl embroidered top worn with black faux croc pumps and Summer 2012 black perforated metal clutch.
Kristin Wiig and M.I.A. were spotted wearing Stella McCartney also. Ms. Wiig opted for a Stella McCartney orange lace embroidered pleated dress worn with grey faux croc pumps with bio soles.
M.I.A. chose an iridescent Hawaiian print sculpted jacket and skirt worn with a matching zip clutch and brown faux croc pumps with bio soles