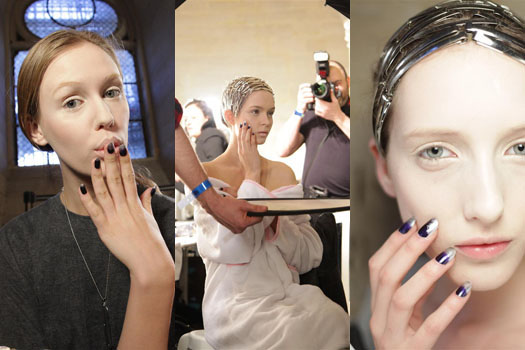 PARIS, Mar 8, 2011 / FW/ — For the third season, leading U.K. nail stylist Marian Newman collaborated with Minx co-founders Janice Jordan and Dawn Lynch-Goodwin to create the nail fashion for the Autumn/Winter 2011 Alexander McQueen collection presented March 8, 2011.
Unlike prior seasons where fabric swatches were provided to Marian, for this collection Marian was asked to use her imagination to create custom Minx that expressed the theme of Ice Queen/Snow.
"Initially I researched some visuals online that captured the essence of the theme, and sent those references to Janice Jordan," explained Marian. "We then discussed the various ideas, and Janice created options using the key images we agreed upon."
Alexander McQueen stylist Camilla Nickerson made the final selection from the portfolio of nail fashion that Marian presented, and chose the Minx look that Janice called "Crystal Cave".
The look is achieved by applying a top coat of Minx that is a translucent replication of the view from a snow cave, with black fading to silver, applied over a flat silver base coat.
"The overall effect is that of a snow queen peering out of her icy cave, and if you look closely you can see the ice crystals embedded in the silver," explains Janice.
"Minx creates an amazing effect that nothing else can achieve, plus it's perfect for the catwalk," said Marian. "There's no wet polish to ruin clothes, and it's so quick to apply when you know what you are doing… there's nothing quite like it."
Marian Newman and her team were joined backstage by Janice and Dawn who personally assisted in applying Minx to the approximately 35 runway models used for the show.
Photos by Becky Maynes, courtesy of Minx