NEW YORK, May 9, 2012/ FW/ — Entitled 'Midnight Rose', the designer, Chadwick Bell's theme for his Autumn/Winter 2012 collection is 'Midnight Rose' because he was inspired by Picasso's Boy with Pipe from the Rose Period, as well as by the feeling of Euphoria blends with romantic themes of baroque influenced embellishments and blossoming flowers.
Bell was also inspired for his Autumn/Winter collection by the ideas of mystery and seduction that he derived from Arlene Gottfried's intimate portrait of Midnight at Bellevue hospital.
This juxtaposition of these two works continues the ongoing battle in society between the vulnerable, the strong, the masculine and the feminine, and the tuxedo and the rose.
The designer, Chadwick Bell, also describes the Chadwick Bell woman as being a combination of romance and danger, as well as being a perfect woman in an imperfect situation. The Chadwick Bell woman is also very rich, refined, and polished, yet she herself is dangerous. This woman is only concerned with engaging in indulgences and experiencing Euphoria-something beyond her own reality, so therefore as beautiful as she is cruel, this woman is our Midnight Rose.
To evoke this theme of 'Midnight Rose' and display the character of the Chadwick Bell woman, the collection features exotic pieces filled with materials such as fur, feathers, leather, gold jacquard, velvet, and python that show that the Chadwick Bell woman is an experienced and worldly woman with her style displaying an abundance of treasures.
For the hair and makeup, the models had a romantic, yet dangerous look with dramatic teased hair and luscious, vibrant red lips as they walked to eery beats under flickering lights evoking a horror-chic aesthetic.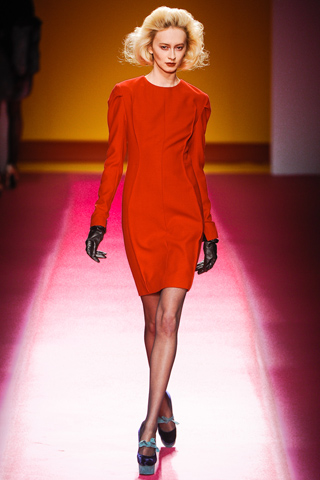 [DARBY RADCLIFF]
Photos courtesy of Style.com