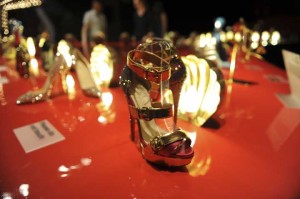 LONDON, May 24, 2012/ — Celebrating Christian Louboutin's 20th anniversary and his dedication to innovative design and craftsmanship, the London Design Museum is holding a retrospective exhibition of the designer's works.
Instantly recognizable by the trademark red soles, Christian Louboutin shoes appear everywhere that stylish and elegant women can be found. The name Christian Louboutin has become synonymous with shoes.
MARTINI, a label which is iconic on its own right, is sponsoring this retrospective exhibition at the London Design Museum. The retrospective exhibition showcases Christian Louboutin's iconic creations and a career which has pushed all boundaries in footwear design.
The glitterati and fashionistas were one of the first to view the exhibition when they attended the "Martini Royale Casting" launch party held last night at the London Design Museum.