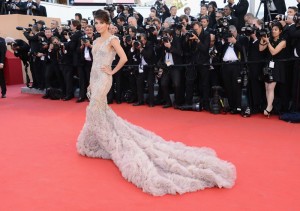 DALLAS & CANNES, May 17, 2012/ — Bringing in 90 years of culinary expertise at Film Festival de Cannes with award-winning partner chefs, Electrolux literally had the glitterati eating on their hands with the 2012 Film Festival de Cannes Opening Gala Dinner.
Taking center stage are two award winning chefs – Michelin Star winner Bruno Oger (France); Bocuse d'Or Gold winner Rasmus Kofoed (Denmark); and Bocuse d'Or Silver winner Tommy Myllymaki (Sweden), who will work alongside respected sommelier Jens Dolk (Sweden).
The chefs will cook for A-list guests including Ewan McGregor, Diane Kruger and Jean Paul Gaultier – all of whom are on this year's Festival Jury.
"The gala dinner experience at Film Festival de Cannes demands chefs that can achieve the highest possible standards." says Frederique Pirenne, Electrolux PR Director Europe. "The partner chefs that Electrolux are bringing to Cannes have won their titles and risen to global prominence by relying on the same appliances as those installed within the Electrolux Agora Pavillion, ensuring they have the support in place with which to confidently perform outside their trusted habitat."
The Electrolux Agora Pavilion will host the official 2012 Film Festival de Cannes Opening Gala Dinner and the Jury Deliberation Lunches. The former of these is considered "the most important annual dinner in France" by Electrolux partner chef and two Michelin starred holder, Bruno Oger..
The Electrolux Agora Pavillion is the largest temporary structure along the Croisette and was built over 2 weeks by 51 people, equating to almost 200 man hours. The Agora is held down by 21 three ton blocks of concrete, twice as much concrete than all the other pavilions in the Marché de Film (excluding Canal+), and dug 7-8 metres into the ground.