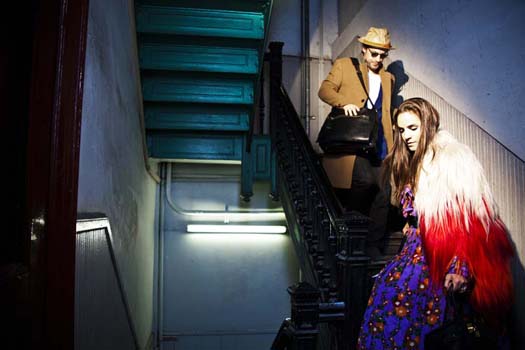 NEW YORK, May 21, 2012/ — Was it only last February that LifestyleMirror.com, the instantly-shoppable website was launched? It's barely three months old and it has already entered the fashion set's consciousness.
Founded by Emanuele Della Valle, Lifestyle Mirror is the definitive online shopping source for every component of stylish living: men's and women's fashion and accessories, food and wine, home design, art and architecture, travel, beauty, and real estate.
Through weekly cover stories that capture intriguing international personalities, Lifestyle Mirror provides a rare glimpse into their world and the things that most inspire them.
And today, it launches its latest cover story with Laure Heriard Dubreuil and her fiancé Aaron Young.
Heriard, the fashion insider behind The Webster boutique in Miami, and her fiancé, contemporary artist Aaron Young sat down with Lifestyle Mirror for a chat and photo shoot in their 3,000 square-foot Soho loft.
The two opened up about their current projects, including Dubreuil's recent "The Webster at Target" collaboration and Young's recently-opened show of high-octane art at the Museum of Contemporary Art Los Angeles.
During the interview, they also discussed how the worlds of fashion and art relate.
"Fashion and art have always been connected and have inspired each other," explains Dubreuil. "From Yves Saint Laurent's Mondrian dress to the success of fashion exhibitions at the Met, or fashion moguls as notorious art patrons, and vice-versa."
"Fashion and art people have to renew themselves constantly," adds Young. "But there's also an extreme relevance of history in both worlds. We always stimulate each other."
Dubreuil also shared on how they first met and fell in love.
"We met during Art Basel in Miami on December 1, 2008, when I had just opened The Webster's temporary location and Aaron was installing his work for the fair," she explains. "It was literally love at first sight."
The instantly-shoppable story and behind-the-scenes video launches today on LifestyleMirror.com.