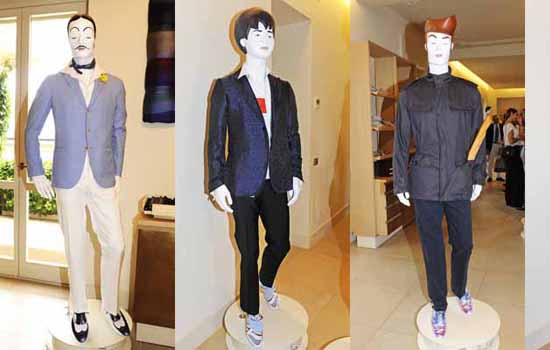 MILAN, Jun 26, 2012/ — One month after launching its own corner at La Rinascente on piazza Duomo, high-end menswear label Caruso unveiled its Spring/Summer 2013 collection at Terrazza Caruso on via Montenapoleone.
The Caruso collection for the summer 2013 includes items combining true sartorial skills and advanced technology, offer an ideal quality-price ratio, and are all "Made in Soragna" (Parma).
One highlight is the CARUSO JACKET, the brand's symbol and the restyling of the favourite model of great tenor Enrico Caruso, to whom the brand is inspired out of elective affinity.
For the Spring /Summer 2013season it comes half-lined in NATURALLY COLOURED HEMP HOPSACK, with two large and capacious bellow pockets and a breast pocket on the right.
New for the season:
Suits: The SHELBY model, deconstructed and unlined, in springy cotton or wool, comes in blue and in the whole palette of natural shades
Jackets: The MEHARI, completely deconstructed, made of shirt ings, in solid colours or madras motifs, checks and micro patterns, comes in white, blue, black, grey, and natural.
Outerwear: The TRAVEL and FREETIME jackets, in soft blue wool and silk twill, or in camel silk/linen canvas, or chalk cotton/linen drill, are lined with ultra light quilt
The UTILITY JACKET is half-lined, with a technical mesh, has multiple pockets, including a smartphone case, and is made of blue wool armure.
Ultra-light K-Way and Trench coats, also of bonded wool and nylon, can be worn over or under a jacket.
Pants: Skinny and with streamlined details, they come in checks, stripes, and madras motifs taking inspiration from shirts, or in washed or piece-dyed cotton.
Shirts: SPORTYPOLO SHIRTS with metal buttons, linen or cotton muslin shirts with checks and denim, but also crepe de chine and batiste DRESS SHIRTS for the evening, with embroideries and pleats.
Neckties: With tiny patterns, micro-dots, and casual abstract motifs complementary to the collection, yet boasting their own clear identity.