Miami, July 21, 2012/ FW/ — Entitled 'The Rhythm of Salvador', the theme for the Poko Pano Spring 2013 collection is the rhythm of Salvador, the capital city of Bahia, Brazil. The designer, Paola Robba, was inspired by Salvador due to the city's vibrant, lively culture, as well as influenced by the colorful crafts and ambiance from famed street artist 
Bel Bora to the Brazilian martial arts style of Capoeira.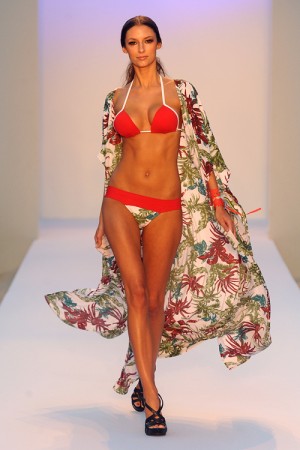 The collection consists of 40 pieces including bikinis, caftans, maillots, and pants, which all encompass the rhythm of Salvador by displaying a combination of sleek silhouettes and structured shapes with architectural forms that are full of volume.
The Spring 2013 collection looks also feature vibrant hues such as orange, red, pink, yellow, gold, green, and blue, all inspired by the tropical shades found in Salvador. Prints in the collection are influenced by the Bonfim ribbon, also known as the Brazilian wish bracelet, the historic buildings in Pelourinho, Salvador, and the tropical hibiscus and coconut trees and lush flowers of that region in Brazil.
[Darby Radcliff] Photos courtesy of TARA, Ink.