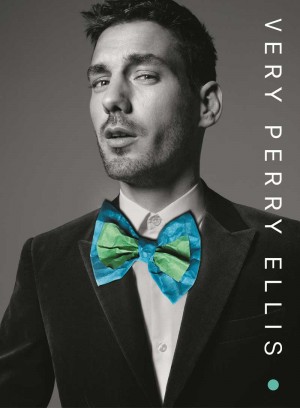 NEW YORK, Jul 13, 2012/ — Call it Perry Ellis 2.0 if you want; the legendary brand updates its brand identity to create stylish, witty yet unpretentious clothes for the modern guy.
Inspired by the legacy of its namesake designer, Perry Ellis' new brand positioning will act as the guiding light for all marketing, sales and design activities, including a new logo that harkens back to the original Perry Ellis logo and redesigned packaging.
The new identity will kick off with the Fall 2012 advertising campaign, which leverages "Very Perry Ellis," a term affectionately used to describe the brand's clothes during the designer's heyday, as its tagline.
This new identity signals a major shift for the American sportswear brand, which relies on both a revised understanding of the Perry Ellis consumer and a renewed appreciation for what made Perry Ellis, the man, such a successful designer.
"We wanted to invigorate our brand with an updated personality to appeal to a younger man," said Carmine Petruzello, president of Perry Ellis Menswear. "After months of research, we found that a sense of levity and irreverence was not only key to that consumer, but also embodied in our founding designer. So, we are defining our future by staking a claim in the past. Perry Ellis isn't just the name on our door."
That future will first be articulated through Perry Ellis' advertising campaign this fall. The campaign, conceived by strategic creative agency YARD, eschews the dramatic beachscapes of campaigns past for a world of self-expression and fun.

Four models star in classic back-and-white portraiture that is punctuated with an unexpected "Very Perry" pop of color and levity. Polka dots, a paper bow tie and an oversized flower appear to 'photo-bomb' the portraits, turning what is a typically serious moment in fashion into something light-hearted and fun.
The new campaign has a "Very Perry" tie to the past. Model Matt Norklun, the legendary face of the brand in the 1970s and 1980s, will make a reprisal in the fall 2012 campaign, uniting the updated brand position to its heritage.
The campaign will launch in-store, outdoor and within the September issues of fashion books, including GQ, Esquire, Men's Health and OUT.
The new campaign and brand position is another major initiative of the new executive team at Perry Ellis. It follows the addition of a new design team, led by Chief Merchandising Officer Doug Jakubowski, as well as the announcement of a collaboration with menswear designer label Duckie Brown, which will make its debut during New York Fashion Week in September.