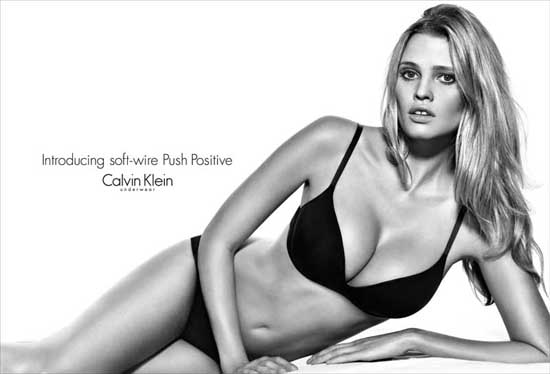 NEW YORK, Aug 15, 2012/ — Lara Stone wants you to push positive with Calvin Klein Underwear! The Dutch supermodel once again stars in the label's global marketing campaign.
Shot by renowned photographer Steven Klein in New York City and presented in alluring black and white, the Calvin Klein Push Positive campaign is digitally focused and set to launch in 16 different countries.
With a video featuring Lara Stone as its center, the campaign which will debut on YouTube the first week of September, and will be released on Calvin Klein's social media sites in advance of that break.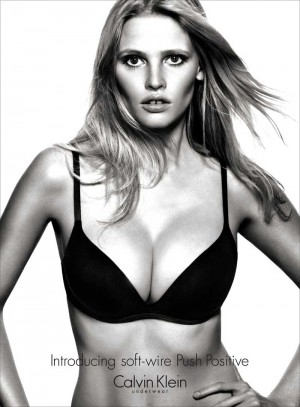 YouTube is the lead global media property for the campaign, spanning 11 countries, which will include the United States, Canada, Mexico, United Kingdom, Germany, Spain, Hong Kong, Korea, Singapore, Taiwan and Philippines. Additional digital support in Asia will include placements on Youku, Yahoo! and Nate.
This campaign is a major shift for the brand, with digital media representing approximately 70% of the global media mix. It is expected to garner 575 million impressions.
Encapsulating sexiness through simplicity and ease, Calvin Klein Push Positive is the latest women's offering from Calvin Klein Underwear and is designed to be today's ultimate wardrobe solution: the perfect modern bra.
The advanced push-up's superior fit comes from a unique butterfly shape created with innovative soft-wire technology. Combining style and function, the flexibility of this new technology allows it to move with and curves to individual body shapes resulting in a smooth, sleek, seamless look.
The soft, lustrous microfiber bras and coordinating bikinis are offered in sophisticated timeless shades of black and bare, as well as in a vibrant array of deep, rich colors.