Miami, August 7, 2012/ FW/ — Entitled 'Island Style,' the theme for the Cia.Marítima Summer 2013 collection draws inspiration from island style because the designer of Cia.Marítima, Benny Rosset, is deeply inspired by the Hawaiian islands and their incredible tropical foliage, breathtaking beaches, and their stunning, crystal clear waters.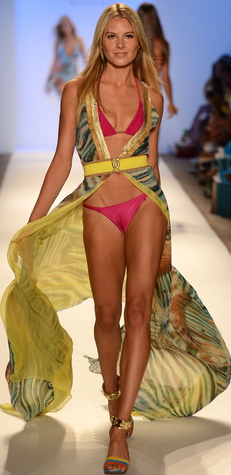 The Cia.Marítima Summer 2013 collection includes sophisticated, beach chic looks ranging from exclusive printed swimwear to goddess-like cover-up pieces-that all evoke the signature style of Cia.Marítima.
Swimwear pieces in the collection consists of sporty, bold one-pieces, sultry monokinis, as well as flirty bikinis and bandeaus with either fold over, high-waisted, or silk scarf tie bottoms.
The collection's cover-up looks include feminine, flowing dresses and lightweight, sexy sarongs that add a touch of comfort, as well as exude a sense of confidence.
To display the theme of island style, the collection hues are made up of vibrant, tropical shades of coral, pink, yellow, turquoise, and royal blue.
The collection also showcases standout prints and adornments such as tropical and floral-inspired printed patterns, which includes sepia-toned images of the Pacific island chain, as well as exclusive seahorse and leopard prints that are embroidered with gold, seahorse and flower-shaped adornments.
Through the incorporation of intricate details, development of exclusive prints, and delicate, detailed craftsmanship to ensure excellence, this collection strongly displays Benny Rosset's theme for his brand, Cia.Marítima, of "continually enhancing the beauty of women."
[Darby Radcliff] Photos Courtesy of Getty Images