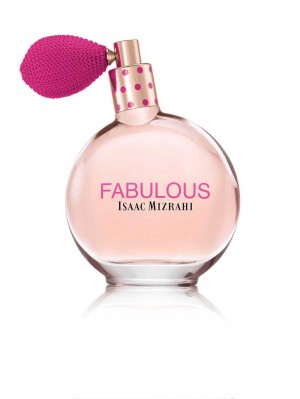 NEW YORK, Aug 4, 2012/ — A fashion designer and a TV personality, Isaac Mizrahi is the epitome of a fashion icon. Best known for his eponymous fashion lines, Isaac Mizrahi is now once again expanding his fan base with FABULOUS, his first ever fragrance line for women.
Available beginning September 12, just in time for the Spring 2013 fashion season, FABULOUS is a sensual and timeless scent that captures the essence of Mizrahi's native New York. This wonderfully feminine scent encapsulates Isaac's desire to make a woman feel like she does when she puts on an evening gown, like she's stepped into a fantasy.
"Creating a fragrance feels like the last piece of the puzzle," said Mizrahi. "I've been designing clothes, accessories, housewares – everything for a woman's lifestyle – for nearly thirty years. FABULOUS is my opportunity to offer women something to identify with on a whole other emotional level."
The launch is being supported by a multimedia campaign created in conjunction with Isaac Mizrahi and famed photographer, Terry Richardson.
FABULOUS: The Fragrance
The fragrance mirrors fruity florals with top notes of mandarin, nectarine and bergamot to invigorate the sense. The floral middle notes, feminine and subtly sexy, feature jasmine, tuberose, freesia and peony. The dry finish of sandalwood, vanilla and cedar give the fragrance a sense of earthiness and empowerment. All scents blend together to create Isaac's vision of feeling and smelling fabulous all the time. The FABULOUS fragrance was developed by Mizrahi in collaboration with The Cloudbreak Group and Firmenich, the largest privately-owned manufacturer of fragrance oil in the perfume and flavor business.
FABULOUS: The Bottle
FABULOUS features an old Hollywood glamorous packaging design. The art-deco inspired, round glass bottle, with its soft pink hue rests off-center and has a vintage feel at first glance. A bright pink bulb atomizer and gold cap adorned with pink polka dots help make the bottle an instant classic with a modern twist. The bright pink carton is simply chic yet bold with a gold logo and accents, perfectly echoing the spirit of the fragrance.
FABULOUS by Isaac Mizrahi will retail for $78.00 (3.4 OZ) & $65.00 (1.7 OZ) and debut exclusively on QVC during their Fashion's Night Out event on September 6, 2012, and Bloomingdales stores nationwide.