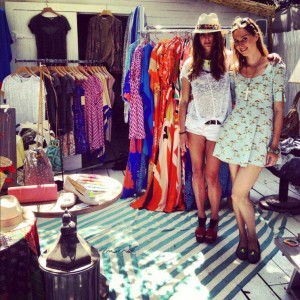 PARIS, Aug 3, 2012/ — After a highly successful opening of its concept store in Paris, The Space opens a pop-up store in Saint-Tropez. Inaugurated last July 20th, The Space will be at the Maison Blanc Bleu until August 15th.
Invited by Patrick KAHYAT of the Maison Blanc Blue, The Space will be housed at the Cabanon du Jardin at the sumptuous maison.
THE SPACE chez MAISON BLANC BLEU/
Le Lys des Mers – 4 avenue Foch – 83990 SAINT-TROPEZ – Tél : 04 94 43 00
Founded by Tallulah Rufus Isaac Van Hagen and Julia Tinkerbell, "The Space" was inspired by Vicky Tiel and Elizabeth Taylor, who in 1961 created a very similar space where fashion and art live side by side.
"The Space" opened last December 2011 in a 50 square-meters location at 21 rue Bonaparte. With the walls intentionally left white so that it can serve as a background for all the photos and artwork to be displayed, this seeming blank wall provides a beautiful contract with a salmon pink marble floor which is reminiscent of the 1970s.
A perfect place for fashion and art to co-exist, everything on display at The Space is for sale.
THE SPACE/ 21 rue Bonaparte à Paris VI.
Email: mail@thespace.com
Hours: Monday – Friday: 10:00 AM to 7:00 PM; Saturday: 12:00 NN to 7:00 PM