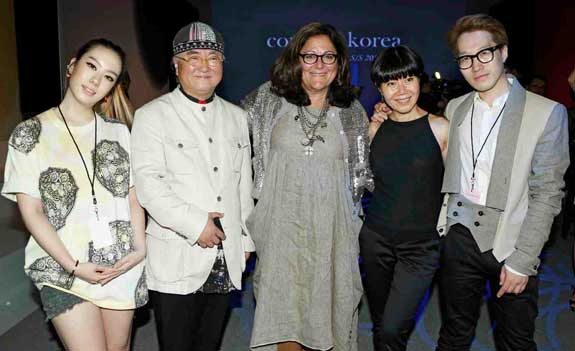 NEW YORK, Sep 7, 2012/ — Concept Korea, the U.S. based collaborative for Korean fashion designers, returned to Lincoln Center to reveal the Spring/Summer 2013 collections.
CHOIBOKO by Choi Bo Ko, CRES. E DIM. by Hongbum Kim, KYE by Kathleen Kye, LIE SANG BONG by Lie Sang Bong, and SON JUNG WAN by Son Jung Wan rounded out Concept Korea's most talented group yet.
The presentation featured a performance by world renowned MARTHA GRAHAM DANCE COMPANY (who all wore custom tees made by each designer) and music by DJ MIKE NOUVEAU.
Behind Concept Korea is a powerhouse panel of fashion's most influential voices, who came together to hand-pick each designer.
The industry insiders include FERN MALLIS, Founder of New York Fashion Week, SIMON COLLINS, Dean of Parsons, COLLEEN SHERIN, Fashion Director of Saks Fifth Avenue, STAN HERMAN, Former President of the CFDA, PHILLIP BLOCH, Stylist, ANN CARUSO, Stylist, JANE PAGE, VP at Balenciaga, CAROL SONG, Head Buyer at Opening Ceremony, SCOTT STUDENBERG, VP at Lanvin, TARYN LAEBAN, VP at Kate Spade, and PHILIPPE SOUSSAND, founder of Souss and Associates.
Encompassing the theme of "5 Korean Traditional Colors," The designers related their collections to five different colors and natural elements including iron, tree, water, fire and ground. Korean Culture identifies all relationships found in nature as symbolically linked and each color represents a principle of life, symbolically linking each designer to one of the elements.