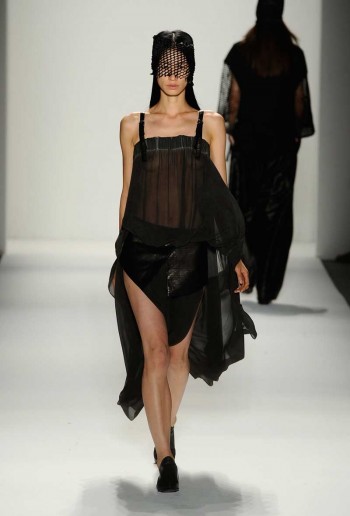 NEW YORK, Sep 8, 2012/ — With a nod to her native South Korean heritage, Demi Park clung to a traditional Korean aesthetic while reinventing traditional uniformity with her Spring/Summer 2013 collection.
Loose, voluminous silhouettes give the wearer a sense of freedom and comfort, breaking the status quo of body con dresses.
The look is monochromatic, and loose-fitting ensembles that gently drape over the body rather than define the woman's silhouette make her designs ultra modern.
With white and cream as the main color throughout the collection, red and blue also play a hand in paying tribute to Park's national colors of South Korea.
To keep it interesting, Park used an array of fabrics such as simple cotton, leather, and mesh. Several models strutted their stuff with seemingly constraining mesh headpieces that were juxtaposed with a breezy see-through blouse.
Once again Demi plays the uber conservative against the ultra modern, perhaps making a statement of a modern prerogative by taking the masculinity of the Korean uniform, and transcending ideas of conformity into a new kind of free, playful femininity.
The collection could have used a bit more diversity; however, Demi Park makes a statement of freedom, and with this idea of freedom she was consistent throughout, and for that she receives my admiration and respect.
[CASSIDY RAYE]
Photos courtesy of Mercedes-Benz Fashion Week