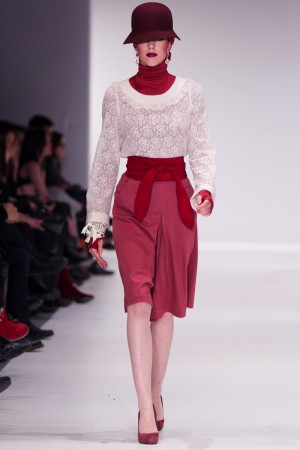 MONTREAL, FEBRUARY 13, 2011 – Barila is always an expected show during the Fashion week. Bringing high fashion on the Montreal fashion scene, Sabrina Barilà knows how, with the clothes she designed, to suit the dynamic nature of the modern women.
For this season, the inspiration is clear through the collection: Barilà preferred a luxe-vintage feel inspired by mid-70's fashion.
Long turtle-neck knit dress with oversized pockets, long ballerina wrap dress, maxi dresses and ultra suede shorts all in colors, from camel, teal, dusty rose to grey compose the collection. Silhouettes go from high waists, long legs and skirts to fitted belted blazers and knee lengths skorts.
Sabrina Barilà used materials such as knits, silk chiffon and even faux leather and fur; for her, the fashion from that generation wasn't just about the rich colours or textures, it was the combination of both.
Unfortunately, she didn't succeed to do it as well as we would have expected her to do it. In fact, the whole collection wasn't so modern. The girls were elegant, but the cut of some blazers, for example, didn't look as fresh as we would have like.
Her interpretation of the 70's was maybe too literal; the models looks like they were directly taken out of a Charlie's Angel episode. On top of that, turquoise faux-fur and models'big makeup gave the impression of a Dynasty episode moment. Quite confusing for a label which is generally young and fresh.
[MARIE-CHARLES]
Photos: Jimmy Hamelin, Group Sensation Mode