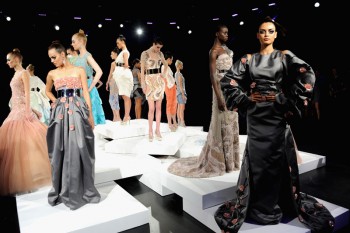 NEW YORK, September 10th, 2012/ — Exquisite. Breath-taking. Culturally unique. Rafael Cennamo's Spring/Summer 2013 collection is an all out win. As models posed perched on standing blocks, photographers circled around trying to get as many shots as possible of the ball gown beauties.
Rose chiffon, origami, kimono influences, moon mist gray and cherry blossom embroidery, oversized bow sleeves, mint satin gazaar with silk tulle are just some of the phrases attributed to this astounding collection evoking a majestic, high socieity aura. The collection contains cocktail dresses as well as elegant evening gowns.
Each dress sparkled with embroidery and fine detail. Cennamo said his goal was to "reinterpret the classic Japanese kimono with a mix of modern culture," doing so by incorporating the Japanese cherry blossoms into the embroidery and delicate beadwork.
Taking on the feat of mixing elegant with edgy, Cennamo knows how to design for a woman's silhouette describing the woman who wears his brand as "knowing what she wants and having a strong personality." Ladies…. you're welcome.
[CASSIDY RAYE]
Photos courtesy of Mercedes-Benz Fashion Week