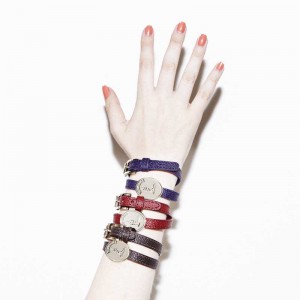 MILAN, Sep 3, 2012/ — Participating on a global scale, Trussardi will celebrate Fashion's Night Out in three different cities: Milan, Rome and Shanghai.
On September 6, the boutique on Via S. Andrea in Milan will stay open until 11:30 p.m.; on September 7, the new Trussardi flagship store in the prestigious Yi Feng Galleria mall will be open late; and on September 13, the Trussardi boutique on Via Condotti will welcome fashionistas for their fashion night out on the town.
For Fashion's Night Out, Trussardi has created cool limited edition bracelets. Made of crespo, an iconic material of the brand, it wraps around the wrist and is decorated with a gold oval logo embossed with the Trussardi greyhound. The bracelet, which comes in dark brown, purple, and cherry red, is a unique gift and an accessory that you'll want to collect in all three shades.
This year Trussardi has chosen a simple yet special object that combines its one hundred years of tradition and excellence in making accessories with a hip fashion mood.
The limited edition bracelets will be sold in the Trussardi boutiques of Milan, Rome and Shanghai for 70 euros, an accessible price for anyone who wants to become a part of the Trussardi world.