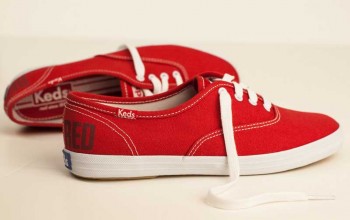 DALLAS, Oct 11, 2012/ — Keds and Taylor Swift want young girls to be brave! Putting that goal front and center, the iconic sneaker company and the six-time Grammy winning, multi-platinum singer-songwriter partnered to encourage young women to share their stories and strength.
Via a multimedia campaign headlined by Taylor Swift, Keds heartens to create a global community of brave girls who inspire and motivate each other to live their lives to the fullest. The initiative will be supported by scholarship opportunities, social media initiatives, video content, and limited edition product perfect for every part of a girl's life.
Understanding that community building takes time, Keds and Taylor Swift agreed on a multi-year partnership to support the initiative.
The partnership will kick off on October 22 with the release of the limited edition red Champions, the most iconic Keds® sneaker style and the release of Swift's latest album, "Red". Both the sneakers and the album will be available for purchase on Keds.com, TaylorSwift.com, Nordstrom.com and Journeys.com.
"I'm so excited to be partnering with Keds®," said Swift. "I've been a fan of Keds® for years because they have two of my favorite elements of great style – they're classic and effortless."
"Taylor has become an inspiration to millions and a shining example of what can happen when you set your mind to something," said Keds® Brand President Rick Blackshaw. "Keds® resonates with bold, unique girls who are brave enough to be themselves. This understanding is the most important thing we share with our fans, and we're committed to helping girls everywhere look great but feel even better."