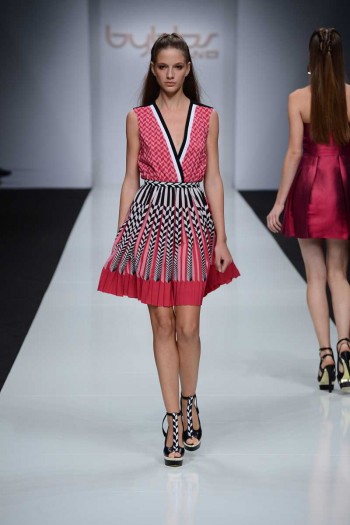 MILAN, Oct 2, 2012/ — Launched on Sep 23rd, the same time that its brother, BYBLOS_MILANO restaurant/lounged opened to the public, the brand-new Byblos Milano womenswear line is an international, feminine soul.
The fruit of Manuel Facchini's creative flair, Byblos Milano is an accurate reflection of his particular vision of contemporary style.
"For Byblos Milano I put together the essence of my passions and of the most exclusive style codes I love most and I molded them in a fresh, young, elegant way", commented Manuel Facchini about his latest creation.
A range designed to be the brand's primary collection, marked by a precise, unique identity, by an international, very wearable look. Byblos Milano is an ensemble of innovative, sophisticated creativity which characterises the designer and derives from the heart of Facchini's Central St. Martins training.
Softness and precision, contrasts and layering give life to impalpable yet strong pieces that are the trademark for Byblos Milano's spring/summer 2013.
The spirit of the collection targets a sophisticated and contemporary woman: spring/summer is sharp and features traditional fabrics in a modern key; pure shapes are enhanced by rich fabrics and materials.
Prints mark the quest for a real lightness and play on the opposition between masculine and feminine: the classic patterns – chevron, dog's tooth above all others – contrast with the orchid print.
[MARI DAVIS]
Photos courtesy of Byblos Milano