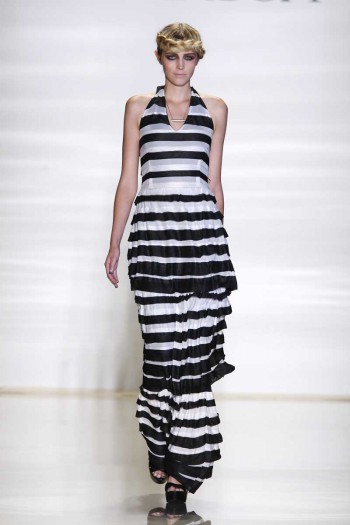 NEW YORK, Oct. 5, 2012/ FW/ — Entitled 'Iconic Horror Films', for the Emerson Spring/Summer 2013 collection, the designer, Jackie Fraser-Swan was inspired by iconic horror films from the 1970s such as Carrie (1976), Burnt Offerings (1976), and The Amityville Horror (1979). Modern day horror films written and directed by Rob Zombie including House of 1000 Corpses (2003), The Devil's Rejects (2005), and the television series, American Horror Story also inspired Swan for her Spring/Summer 2013 collection.
Mixing rock with a sense of romance, the looks in the Emerson Spring/Summer 2013 collection contain airy, light, feminine pieces such as classic button-down polka dot blouses and skirts, three-tier gowns, printed maxi skirts, two-tier pleated dresses and pants, a diamond print jacket, and a sleeveless angle drape dress, which is an Emerson statement piece.
The collection also consists of sophisticated looks inspired by the high school setting of the 1976 horror film, Carrie including a varsity jacket, a striped cardigan, a peplum blazer, and pleated school girl skirts.
Collection hues consist of horror-inspired colors of black and white, neon orange, electric blue, and purple, as well as vivid shades of red are consistent throughout the collection.
Fabrics in the collection include soft, printed silks, metal blends, luxurious jerseys, and red velvet tulle, which strongly evokes the collection's chilling inspiration of frightful horror films.
The dark original inspiration of the pieces in the Emerson Spring/Summer 2013 collection translate beautifully into refined looks that display a sense of elegance with an edge.
[DARBY RADCLIFF]
Photos by Randy Brooke