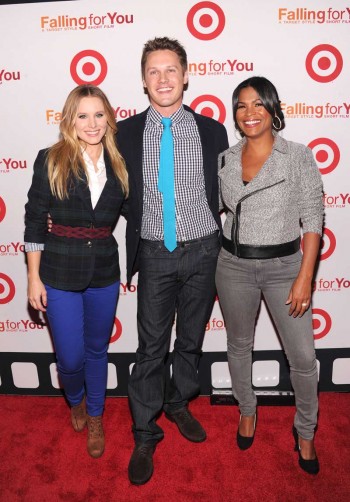 NEW YORK, Oct 11, 2012/ — Last night, at Terminal 5 in New York City, a different kind of movie premiere was held. With the glitterati attending, it looked like any other movie premieres. But "Falling For You", a film short is not like other movies. It's the first ever shoppable film produced by Target.
A romantic comedy starring Kristen Bell, Zachary Abel and Nia Long, "Falling For You" stands out because the short film is shoppable without interruption. Every item of clothing and accessory that the actors wore can be purchased online while watching the movie.
The movie is available at www.Target.com/FallingforYou was released in three episodes, each approximately four minutes long. It highlights fall fashion, beauty and home products available exclusively at Target, and allows guests to shop and share the product in each episode without interrupting their viewing experience.
The last episode, which was released on Oct. 9, came to life with an unforgettable aerial performance for event attendees and Target's guests online via Target.com/FallingforYou on Oct. 10 beginning at 7:30 p.m. ET.
[MARI DAVIS]
Photos by Jamie McCarthy/gettyimages.com, courtesy of Target